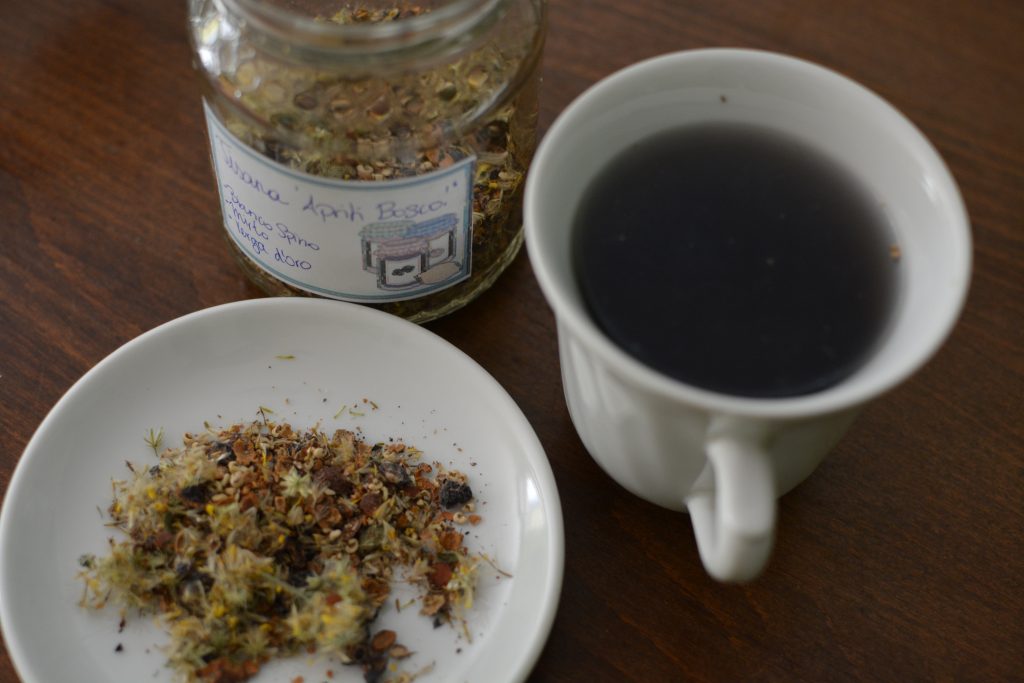 La tisana a 'Apriti bosco!' rappresenta l'elemento della tranquillità e della salute nel nostro progetto. Abbiamo creato questa tisano raccogliendo le varie frutti e erbe del bosco, e abbiamo scelto una combinazione di bacche di biancospino, bacche di mirto e la Verga d'oro.
Biancospino
Il biancospino trova impiego in tre ambiti: ha proprietà preventive, facilita la convalescenza in caso di patologiche cardiache ed è efficace per contrastare l'affaticamento cardiaco.
Mirto
Questo perché sono una fonte di benefici, oltre che un alimento gustoso. Anzitutto lo potete impiegare per la sua azione astringente, ma è anche un valido antiossidante e digestivo. In Sardegna viene realizzato anche un buonissimo liquore a base di mirto.
Verga d'oro
Le proprietà della verga d'oro sono diuretiche, astringenti, antiinfiammatorie, decongestionanti. La verga d'oro si può considerare un valido e ottimo "depurativo del sangue". La verga d'oro ha azione antinfiammatoria e spasmolitica che la rende un valido rimedio nella cura delle affezioni alle vie urinarie e nella prevenzione dei calcoli renali, oltre che nella prevenzione   delle malattie a carico dell'apparato urinario.  
The herbal tea at 'Open the woods!' represents the element of tranquility and health in our project. We created this herbal tea by harvesting the various fruits and herbs of the forest, and we chose a combination of hawthorn berries, myrtle berries and the Goldenrod.
Hawthorn berries
Hawthorn is used in three areas: it has preventive properties, facilitates convalescence in the case of heart disease and is effective in counteracting cardiac fatigue.
Myrtle
This is because they are a source of benefits, as well as a tasty food. First of all you can use it for its astringent action, but it is also a valid antioxidant and digestive. In Sardinia a very good liqueur based on myrtle is common.
Goldenrod
The properties of the goldenrod are diuretic, astringent, anti-inflammatory, decongestant. The goldenrod can be considered a valid and excellent "blood purifier". The goldenrod has an anti-inflammatory and spasmolytic action which makes it a valid rhyme.