Roots & Roofs is Acarbio's project cycle of creating an environmental education center in collaboration with local and international partners where we talk about natural construction methods, permaculture and more. Follow here on this page our recent updates!
Natural Building Techniques
Natural building techniques are ways of constructing buildings using materials that we can find in nature around us. Natural builders use clay, straw, wood, and stones for instance. These materials are often eco-friendly and easy to find locally. Natural building techniques aim to create buildings that are sustainable, energy-efficient, and in harmony with the environment. To achieve our goal with methods like wattle and daub, adobe bricks, and hyperadobe technique with earth bags we needed experts to guide us trough the process. That's how our partnership with Cob.gr has begun. Members from their organisation are coordinating and helping from the phase of creating the plans to actually implementing them.
Roots & Roofs – How it all began
We held the first phase of the project in May, welcoming volunteers for 2 weeks to create the foundations of a treehouse and a hobbithouse.
Find here Miriam's experience in the TEAM ESC project in May 2023 (in Italian) and also our Instagram posts and stories:
Miriam's experience
Instagram post1; Instagram post2
Instagram story
Instagram stories about the techniques: wattle and daub; adobe bricks; hyperadobe technique with earth bags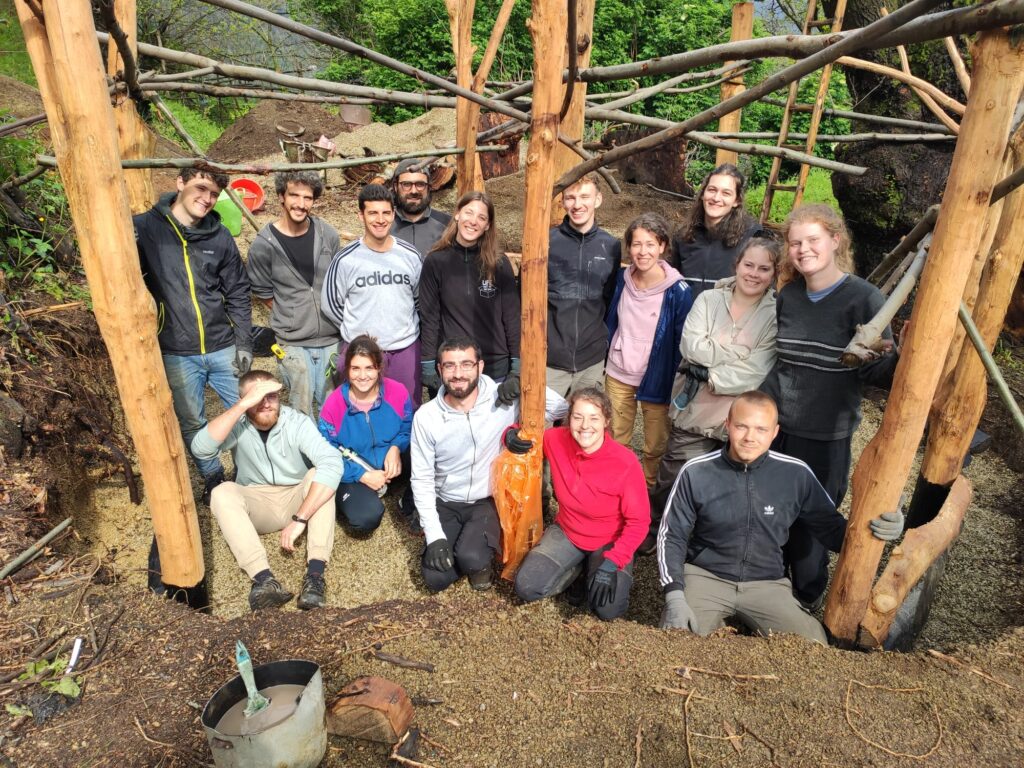 Roots & Roofs II
Roots & Roofs II was a TEAM ESC experience in June 2023. Volunteers continued building the eco-houses, working on tasks such as filling the walls with cobb; and constructing a platform and dome for the treehouse.
Here are the social media links where you can find content about the II. phase of Roots & Roofs, and below is our photo gallery collected from the photos of Marine, one of the ACARBIO volunteers who helped out during the project.
Instagram stories: wall construction; lime washing.