THE MEDITERRANEAN DIET IN ITS NATIONAL INCLINATIONS: IN TRAMONTI 30 YOUNG PEOPLE FROM FRANCE, GREECE, SPAIN, TURKEY AND ITALY MEET IN THE KITCHEN
When you see 30 people, aged 18 to 29, coming from France, Greece, Spain, Turkey and Italy united in Tramonti to present all the elements of the culinary art that, put together, form the Mediterranean diet you will understand why it is considered the Intangible Heritage of Humanity.
From August 22nd to September 1st, 2016, in the spaces of the school complex of Tramonti (district Polvica), all these people from five different international organizations exchanged knowledge about food traditions of their countries of origin, highlighting the benefits of the Mediterranean diet and a sustainable lifestyle.
Project "Make it MedEATerranean" organized by Yap Italia and Acarbio association in collaboration with the municipality of Tramonti, was a part of the Erasmus+ Program promoted by the National Youth Agency.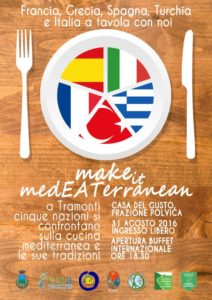 Ten intense days of the exchange of ideas, recipes, experiences that revolved around issues such as "waste of food" and recycling; a commendable attitude of the municipality of Tramonti, which has achieved gratifying results over the years. "It is a cultural and gastronomic exchange that has its roots in the tradition — said Vincenzo Savino, councilor for tourism promotion — a moment of study and confrontation that celebrates the passion and genuineness of the typical products of Tramonti, delicacies of the Divine Coast. Once again, an international showcase that enhances the quality of our workers. Tramonti is the leader in gastronomic research, a journey that starts with tradition and leads to experimentation".
The products of the Amalfi Coast are the main ingredients used by the participants of the "Kitchen Workshop": a way to enhance local production and taste these local delicacies in international recipes. Daily preparation of traditional dishes and tasting of the cuisine of other countries teach identifying differences and similarities between the food traditions of the different areas of the Mediterranean.
The final event that ended the entire project revolved precisely around this subject. On Wednesday 31st August 2016 in Casa del Gusto in Tramonti guests and participants could try concrete examples of this "culinary cultural exchange". It was an amazing opportunity to go, in just one evening, on a "gastronomic tour" to five countries.