From 2 to 5 June 2016 in Tramonti – Amalfi Coast. 

ACARBIO association, in partnership with the Greek organization Cob.gr, organizes an introductive workshop on natural building that will be held in the Amalfi Coast.
The workshop will be mostly hands on, with many techniques practiced: cob, adobe bricks, earth bags, wattle and daub, straw & clay (light clay) and lime rags.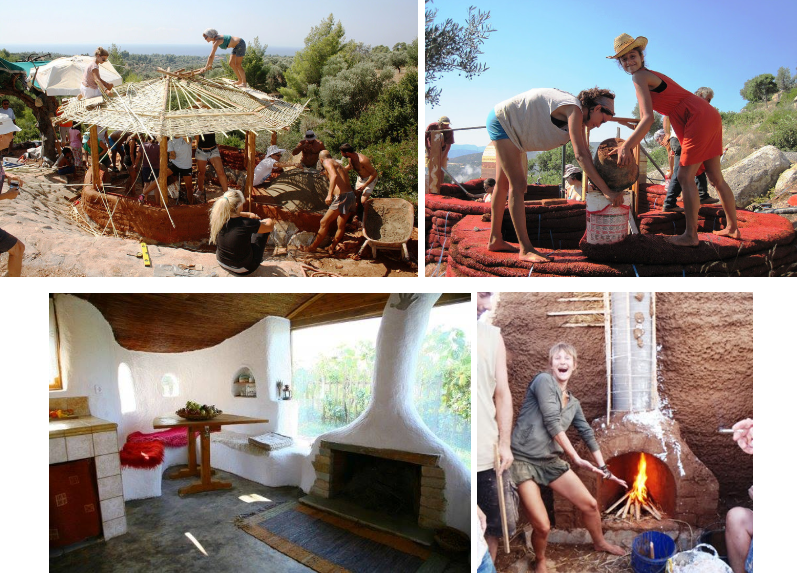 We will build:
– An external cooking place with oven, bbq, rocket stove, sink etc.
– Fireplace and benches for an existing natural building
– A hand sculpted bath
We will use all kinds of natural plasters.
The theoretical TOPICS will include
:
Oltre al lavoro manuale ci saranno anche dei momenti di teoria che includeranno:

Program:
Due to the multidisciplinary nature of the workshops the schedule is intense and fulfilling. A typical day will have:
07:30 – 13:30 Hands on – Building
13:30 – 15:00 Break – Light lunch
15:00 – 17:00 Theory
17:00 – 20:30 Hands on – Building
21:00 – Dinner
Dates:
The workshop's activities will start on 2nd of June and they will finish by the afternoon of 5th of June. To allow the participant to arrive in advance and without stress, the meeting point will be at ACARBIO office in Tramonti (SA) at 18, on 1st of June, to have a regenerating sleep from the travel before starting in the morning.
Venue:
the workshop will take place at ACARBIO office, in the beautiful valley of Tramonti (Amalfi Coast).
Accommodation:
participants will sleep in tents around the workshop area.
Participation fee:
€ 135 which includes breakfast, lunch and dinner (vegeterian option available).
Language spoken:
English/Italian.
You don't have a tent or you don't want to bring yours?
There is the option to rent a two-person tent with an additional contribution of 8€ per day. There is also the possibilities to sleep in a indoor dormitory but only in case of specific needs, considering that there are very limited camp beds. In this case the contribution will be of 15€ per day.
Do you want to visit the area after the workshop?
If you want to stick longer and explore the beautiful places of the area (Amalfi, Ravello, Positano, the ruins of Pompei and Ercolano, the Isle of Capri, Sorrento), it is possible to stay a few days more after the workshop (not longer than 7th of June included) with a contribution of 18€ per day for person (breakfast, dinner and bathroom services included).
How to participate?
If you want to book your participation to the workshop or you need more information, please write us at info@riservabiosferacostiera.org as soon as possible (we have limited places available). To confirm your participation you will be asked to give a deposit of 100€
A few words about the trainer
The workshop will be held by Kostas Kontomanos from Cob.gr, a social Greek cooperative concerrned with natural building and bioclimatic architecture. "Natural building" is a fairly new term which is used to describe an approach to building with a direction towards the use of local, carefully selected or recycled materials, simple tools and techniques.
Kostas and his organization have a portfolio of 17 buildings and more than 50 natural constructions. They also organize workshops on the topic of natural building in collaboration with municipalities, schools, universities and other educational institutes. They created and are maintaining a network of architects, natural builders and volunteers which connects people who need help in building with people who offer their help.  In their farm in Nessonas (Greece) they use natural farming and permaculture techniques. They are very experienced in maintaining/dehydrating/conserving food, using simple and low energy methods. In the last two years Cob have been more and more orientated in organizing more holistic workshops. In ten day campuses we introduce people to a low impact/self sufficient living. People build their own accommodation, ovens, composting toilets, produce soaps and cleaners, they learn how to pick herbs, mushrooms and how to produce and preserve food in general.
Visit their website under Projects and Gallery www.cob.gr to see some of their works, or also their Facebook page https://www.facebook.com/buildingwithearth/?fref=ts.
Have a look at the previous activities of ACARBIO in the field of natural building:
Eco-building a better world (foto e video)